Amber Rose DISHES To "Wendy" About Kanye, Wiz, And Her Stripper Past + Rihanna RELEASES Her Summer Vacay Pics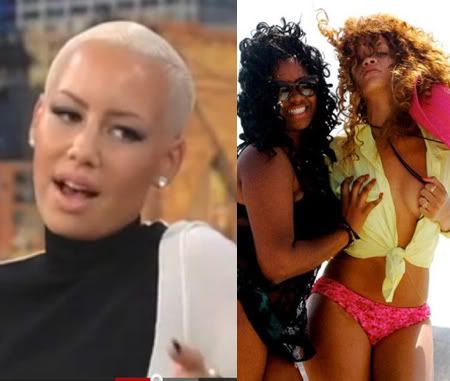 Amber Rose stopped by the "WENDY" Show today where she dished on the "hot topics" of her life including Kanye, Wiz, and stripping. Watch the video inside and see pics of Rihanna's fab vacay in Italy.
Earlier today, Amber Rose dropped by "The Wendy Williams Show" and probably gave her most in-depth interview ever. And it was all during an extended Hot Topics.
The Philly native revealed that she began stripping at age 15 after she and her mother became homeless. Her early years in the strip clubs soured her feelings about men/dating and she felt like she would never find love or get married.
She revealed that she and Kanye became a couple almost instantly after they met on a video shoot in L.A. But during the course of the relationship, he was an "a$$hole" and was pretty mean to her. She also revealed that after their breakup, she was indeed had Reggie Bush as a rebound.
But now she has found peace and love with husband-to-be (according to them) Wiz Khalifa and she hopes to be with him for the rest of her life.
And if you think you'll be seeing her on reality tv, think again. She said she's never sell her soul for fame and fortune. Even though she previously shopped her pilot to tv networks.
Watch Amber's interview here:
And Rih's still releasing new content from her personal stash:
We told you previously about Rihanna's summer vacation where she and her girlfriends boarded a few yachts and went boozing, cruising, shopping, partying, and flirting all through Italy. Now the singer has released tons of photos from her summer vacay for her fans to see. Check 'em: