Chris Brown Drops $15K At The Strip Club With Bow Wow & Rocks BET Cypher+Lil Wayne Responds To Uncle Luke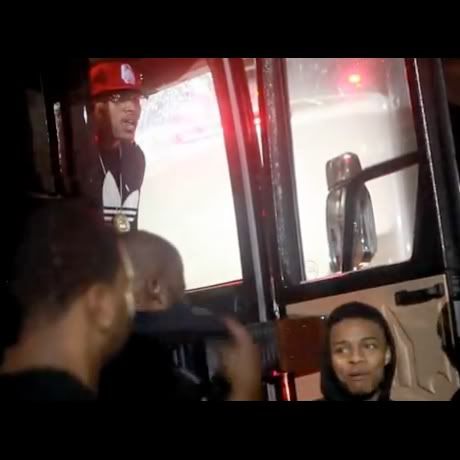 Well at least they didn't drop even more 0′s on the strippers. Chris Brown and Bow Wow kept it to a minimum–relatively speaking–when they hit the strip club in Miami last night. Pics and deets from their FAME Tour afterparty stop, plus whatWeezy has to say to Uncle Luke who recently fired shots at him and other MIA rappers….
Breezy rolled into Miami last night for his FAME tour stop. And of course, had his obligatroy strip club afterparty at King of Diamonds. TMZ reports though that Chris and his homie Bow Wow tipped at least 3 of the strippers $5,000….each. They also had singles all over the floor and bought their entourage a ridic amount of bottles. Well that's better thanFabolous and co. dopping $30K. Here's pics from the after party where Chris was given a 2-story Swarovski crystal FAME cake:
Fun times I'm sure. Wonder was Chris' boo Kae there….
And in other Miami news, Lil Wayne has responded to Uncle Luke's threats about getting out of HIS city. Days ago the "It's Ya Birthday" rapper took Wayne, Rick Ross, and other MIA rappers to task for what he calls just spending up money and ruining his city–instead of giving back to it.
"I'm giving them a deadline" Luke warned. "They got until January 1. If I don't see them giving back to the Magic City, I'm gonna have their Miami cards revoked. They won't be getting into any more nightclubs. They won't be able to go near our women. And Lil Wayne is gonna have to find floor seats for New Orleans Hornets home games because he won't be allowed inside the Triple A."
So Weezy responded via twitter with:
This Nigga Luke trippin!!! I ain't feelin khaled rite now neither
Shots fired back….
BONUS: Speaking of Chris Brown, here's his cypher that aired last night on the 2011 BET Hip Hop Awards with Ace Hood, Kevin McCall, & Tyga: