Jay-Z And Kanye West Release "Watch The Throne" COVER Art + Kanye Goes Off In Another Media Rant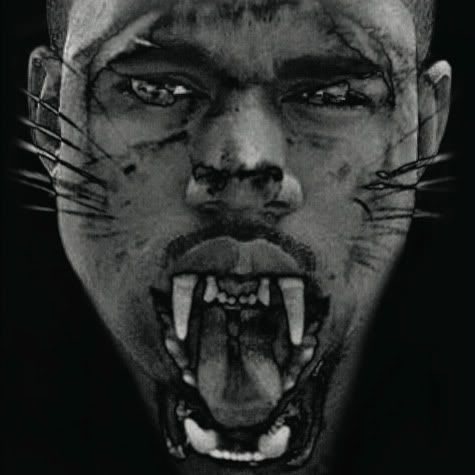 See what Givenchy designer Riccardo Tisci created for The Throne inside and get the deets on Kanye's latest rant where he compares himself to Michael Jordan AND Hitler.
Jay-Z and Kanye West pulled out all the stops for their avant garde hip-hop album, even hiring Givenchy's designer, Riccardo Tisci, to create special pieces for the Watch The Throne artwork.
Riccardo, who served as the album's creative director, created these special pieces which merge the faces of Hova And Kanye with the traits of several wild animals.
While the disc arrives in stores on Friday, you can pick up the deluxe edition of the album exclusively at Best Buy from August 12 – August 22 to see more of the artwork.
But the new album isn't the only reason Kanye is making headlines this week.
He recently put his foot in his mouth (again) during a concert in Herefordshire, England.
While performing at the Big Chill music festival, Kanye went on a long rant about being an artist and how people do not understand him or appreciate how he is changing music. While we're not sure who has recently pissed in his cornflakes as we've seen nothing but mainly positive words spoken toward this new project of his, obviously someone's goten to him.
"I walk through the hotel and I walk down the street, and people look at me like I'm f**king insane … like I'm Hitler." He continued, "One day the light will shine through and one day people will understand everything I ever did."
Or…maybe people are just staring because they're starstruck? He then told the audience he's in the hip-hop game to make a difference.
"Michael Jordan changed so much in basketball, he took his power to make a difference. It's so much f**king going on in music right now and somebody has to make a f**king difference."
And as Kanye poured out his emotions, he also talked about Amy Winehouse and her tragic death. He suggested that her death was caused by the pressures of fame telling the audience,
""This is for McQueen, for Amy, for Michael and for all the media, can you lighten up on all your artists that are still here?"
It's clear that Kanye takes his "art" seriously……and we should just let him be great.