Kanye West BLASTS The Haters Of His Fashion Line With Profanity-Laced Speech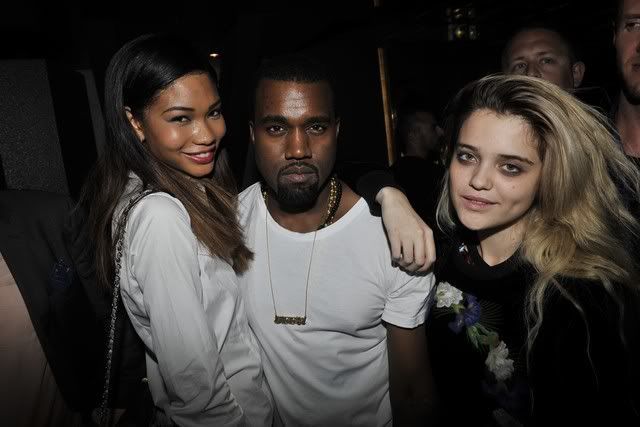 I see Kanye West's friends still haven't pulled him aside about his anger issues. The outspoken rapper used what should have been a triumphant moment, his Paris Fashion Week debut of his womenswear line, to blast the critics….AGAIN! Find out what 'Ye had to say about folks who won't "let him be great" inside…..
Although his Paris Fashion Week debut was feted by celebs like Lindsay Lohan, Ciara, Tameka Raymond and Jared Leto, Kanye West chose to focus on the "negative" when he jumped on the microphone at …… and launched into a profanity-laced speech directed at his haters.
"Thank you for anybody that didn't believe, because they motivated us to break our boundaries. We don't know what the reviews will be, we don't know what they will say, but I got a chance to go to Italy and feel those fabrics. I begged Louis Vuitton to let me do more shoes after my shoes sold out in two weeks, and they did not. I begged Nike, I begged this company to let me do it. And I took out motherf—ing loans to get the best models, to get the best designers, to get the best venue. I gave you everything that I had.

"This is my first collection. Please be easy. Please give me a chance to grow. This is not some celebrity s—. I don't f— with celebrities. I f— with the creatives in this room, the amazing people who spend every day of their life trying to make the world a more beautiful place.

"The amount of people that tried to get me a celebrity f—ing deal. They said, 'You need to do boot-cut jeans, or you won't sell.' Shut the f— up ! Or Hedi Slimane in the motherf—ing Mercer, sitting with me, saying, 'Stop giving them your ideas, Kanye. Do your own thing.' Hedi Slimane! To feel so frustrated. And I thank anybody who came to this party, everybody who supported, everybody who believed, because people thought it was a joke, and maybe people still do, but I can only grow from this point."
And then in highly dramatic fashion, his DJ played Otis Redding's "Try a Little Tenderness." Classic 'Ye.
Rumors are also flying that he and Chanel Iman, who walked in his show, might be an item. Supposedly, Chanel spent a lot of time trying to get Kanye's attention.
"He's a real charmer. I think he's very smart, he really goes for it. He always likes the fly projects," Chanel gushed.
Right…