PICS & VIDS: Nicki Minaj NIPSLIPS On The "GMA" Summer Concert Series Stage!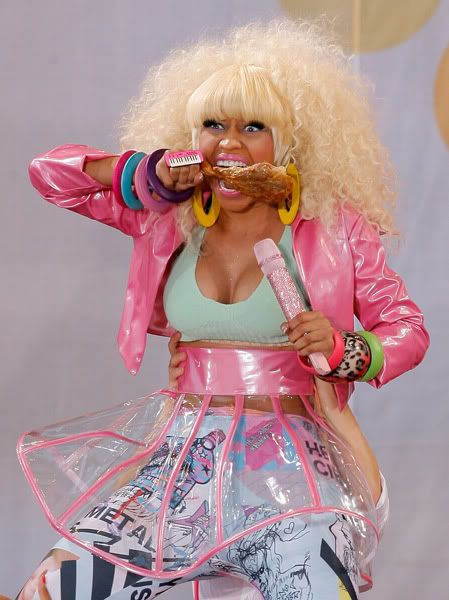 On the heels of the release of shocking audio of Nicki Minaj's attack in a Dallas hotel, the blonde haired performer hit the stage at Rumsey Playfield in Central Park this morning. And she rocked the stage in a clear plastic skirt, printed leggings, pink latex jacket, and a barely-there tank top. And she had a bit of a boob-slip on stage.
Pics and video in case you missed all of Nicki's voices, facial expressions, and animated behavior inside…
Nicki opened up with a short number involving chomping on a fried turkey leg. Alrighty. And her boobs popped out of her tiny tank top too. It's always good to wear a bra when doing that much hopping aound…perky implants or not. Click the images for the uncensored pics: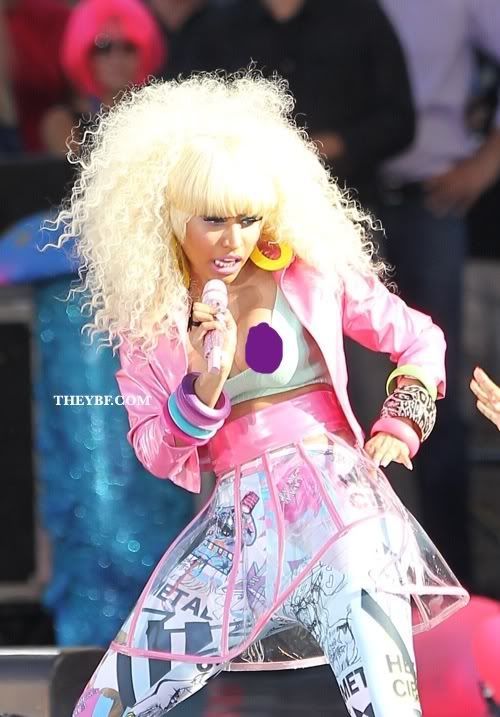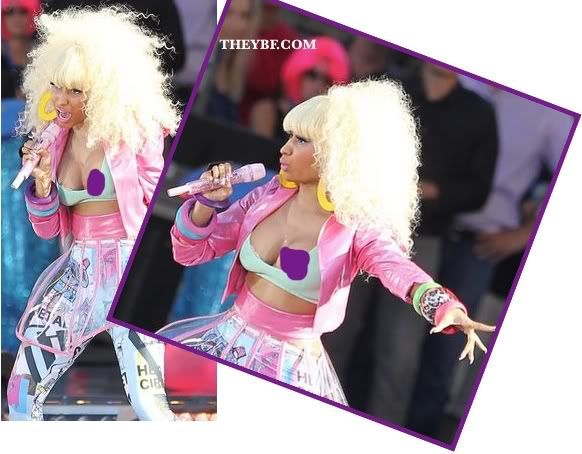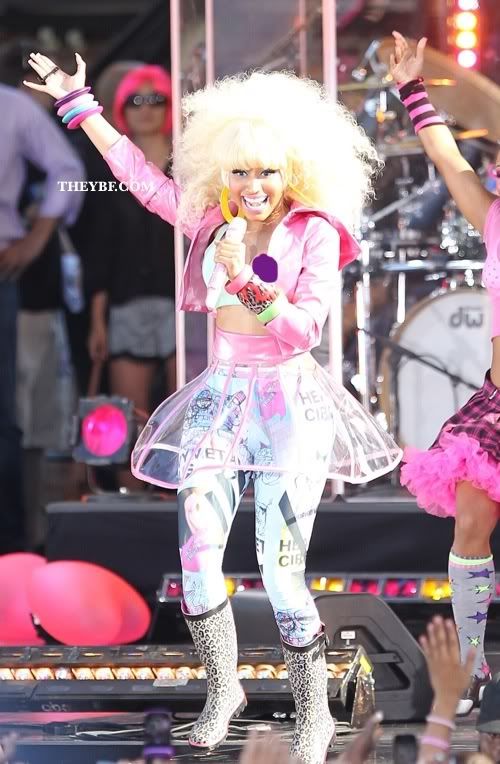 Oh Nicki. During her interview with Robin Roberts, Nicki confirmed that she's filming a voiceover for the upcoming Ice Age 4 movie. And there was a lot going on with the theatrics during her interview. Not my cup-o-tea but her sold-out crowd of fans (GMA required fans to get (free but with a surcharge) tickets to enter) seemed to love it.
The Pink Friday artists responded to her fans beforehand who told her they had been standing in line for hours awaiting her performance:
Dear Barbz in Central Park, if it makes u feel any better, I haven't gotten any sleep either. I DEF wouldn't have been able to get outa bed!
And afterwards she tweeted:
LIFE. U guys just gave me LIFE. I love u Team Minaj! Words could never do this love justice! Thank u @Gma!!!!! Honored. YMCMB
Source:TheYBF