REALLY!? Soulja Boy Cops Himself A $55 Million Private Jet + Man Calls NFLer Larry Johnson The "N" Word And Sues Him For Assault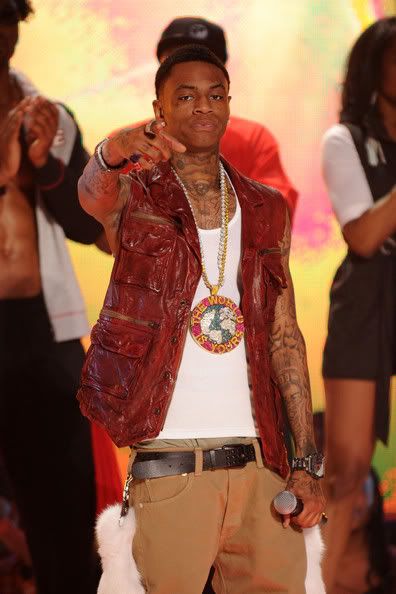 Soulja Boy is celebrating turning 21-years-old with a $300K birthday bash in Miami…and a $55 Million private jet to top it off! Yes….you read that number right.
Get the deets on the king of conspicuous consumption inside and find out about the man suing Larry Johnson for assault, and who called him the "N" word!
A source close to Soulja Boy told TMZ that the rapper bought himself a G5 to celebrate his 21st birthday this week. And guess how much it set him back……$55 Million!
So what does $55M get you these days?
Well….the jet itself cost $35 Million, but Mr. Boy spent an additional $20M pimping the jet out with "…12 custom Italian leather seats, flat screen TVs, 4 liquor bars, a special travertine tiled floor, and Brazilian hardwood cabinets." He's also installing a luxury bathroom and getting a custom paint job with his logo on it.
And in case you thought that was over the top, he's also spending $300K on a big birthday party in Miami tonight.
Hmmm…..it"s his money and he can do whatever he wants. I just wonder will we be revisiting these purchases in 2021 on VH1 "Behind The Music" wondering what the hell he was thinking…while we trace where all the money was spent.
Also in the news….
Former All-Pro running back Larry Johnson is being sued by a man who claims Larry gave him a brutal beat down after a Miami party. But before you take his side, the man reportedly told the cops "This n**ger is going down" while he was filing his report.
According to the civil lawsuit fild last week, John Phillip Graney says Larry Johnson punched and kicked him after a party in May. And when Miami beach police responded, John told them,
"This n**ger is going down. He needs to learn a lesson, it's going to cost this prick."
You can view some of John's injuries here:
John says he suffered cuts to his face and ear, 3 herniated discs and a torn rotator cuff.
When asked about the "N" word comments, his attorney said John does not recall making those comments. Of course not.
Larry Johnson, who has a history of angry lash outs, has responded through his lawyer saying this is an extortion attempt to get money from him.
Source: THEYBF