Rihanna's "Talk That Talk" Promo Pics + Robin Thicke RELEASES "Pretty Lil' Heart" Ft. Lil' Wayne & Album Artwork
Earlier today, Rihanna dropped a few promo pics from her sixth album Talk That Talk, due November 21. See the pics inside and also listen to Robin Thicke's latest song "Pretty Lil' Heart" featuring Lil' Wayne…
With her 11th #1 song "We Found Love" ruling the charts, Rihanna teased fans today by releasing a few promo pics from the upcoming Talk That Talk disc.
In one pic, she rocks a red and black outfit that matches the "decor" of an apartment building hallway, while another has her "pimped" out in black and white holding the brim of her hat. I don't see a theme…..but cute pics!
<
And here's behind the scenes footage where Rihanna explains why she chose her Talk That Talk album.
Also in music……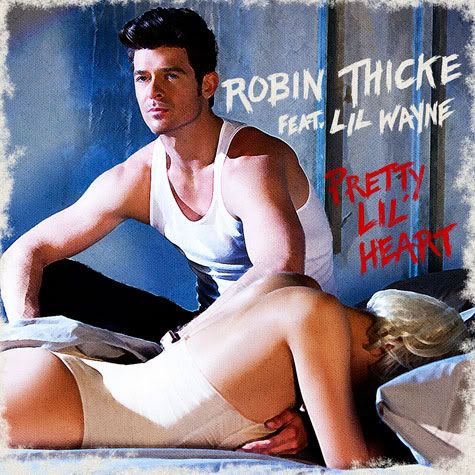 Robin Thicke and Lil' Wayne are creating more musical magic together (after one of my fave tracks "Shooter" and also "Tie My Hands") for Rob's Love After War disc, due December 6.
The duo have linked up for "Pretty Lil' Heart," where Robin assures his lover (and yes we know all these songs are about wifey Paula Patton!) that he is completely into her….and she shouldn't worry her pretty little heart about him leaving.