SEE SOMETHING SAY SOMETHING: Photos Prove FEDS Knew T.I. Was Taking a Tour Bus To Halfway House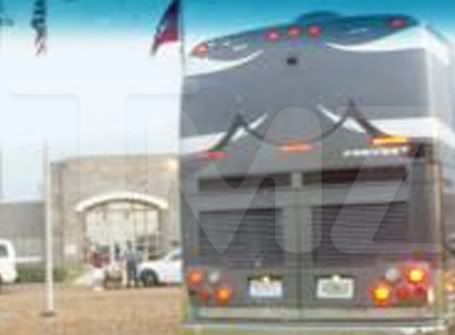 Do the feds just have it out for T.I.? Newly released photos show that not only did prison officials know T.I. was boarding a tour bus on the way to his halfway house, it appears that he received help!
So now the feds are backtracking and saying T.I. was also brought back into custody because he may have been discussing "business" on the tour bus with its occupants. Get the deets inside….
As shown in the photo above, it confirms what T.I.'s wife, Tiny, said last week, that prison officials knew that T.I. was taking a tour bus to his halfway house.
But now prison officials are backing off of the whole "tour bus" thing and saying the OTHER reason T.I. was brought back into custody was because prison officials believe he was conducting business while on the bus. How so? Shortly after T.I. left prison, it was revealed that he was shooting a reality show about his release for VH1. And guess who just happened to be on that waiting tour bus……T.I.'s manager and two VH1 producers. Hmmmmmm.
In an incident report file by the feds, they said T.I. was ONLY supposed to travel with his wife Tiny to the halfway house. And although T.I.'s camp says no "business" was discussed, prison officials don't see it that way. So T.I. went back to the Big House.
SIDEBAR: So who did they think was driving that big ass bus then? Did the Feds assume it was Tiny? Pure foolery.
View the incident report here.